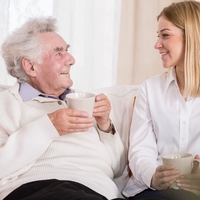 When you are caring for elderly parents, it's not uncommon to notice that they are struggling to cope in their own home. Maybe they have mobility issues, perhaps they have trouble remembering things or keeping track of their medications, or maybe it's something else entirely that makes it difficult for them to remain independent in their own home. While the conversation of going to a care home facility in north wales may not be easy, these five tips will help ensure the best possible outcome for both of you.
1) Let Them Know You're Worried
It's normal for your parents to be resistant to having a care home discussion, but if you broach it with sensitivity, you may be able to avoid any confrontation. Start by telling them how worried you are about their state of mind or health and let them know that you want what's best for them. If they don't seem receptive at first, just try again later when they might be in a more open frame of mind. If all else fails, involve other family members who can help persuade them.
2) Give Them Options
Taking control of a loved one's care is never easy, but not giving them any say in their situation can cause guilt and anxiety—two emotions that will take a toll on everyone. Giving your parents options in how they receive care is key to instilling positive feelings about their health and home life. Options could include moving into a care home, or simply moving from a single-floor residence into an assisted living facility. There are a number of care homes in North Wales to choose from.
3) Be Honest
As much as you might want your parents to stay in their own home for as long as possible, avoiding or delaying discussions about care is rarely helpful. It's better if you can have honest, open conversations with them from an early stage; that way, they have time to consider their options. If your parents feel like you're hiding something from them or keeping it a secret, they may lose trust in you—not a good start!
4) Take Care Not to Offend Them
In order to talk with your elderly parents about their care needs, it's important that you approach them in a sensitive manner. If they are still able to make independent decisions, respect that; but also try not to offend them when broaching what can be a sensitive subject.
5) Listen
It's important not to be too forceful when you first bring up moving, as it could make your parents uncomfortable. Instead, try and listen carefully to their concerns. If they are reluctant to talk about moving, find out what they like about their current home and also whether there is anything stopping them from making a move. The reasons for living in an elderly care home north wales may vary but usually include things such as security, safety and privacy.