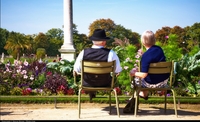 Homecare services means that your loved one can continue living their independent life, which can be seen as favourable for many over an alternative of moving into a nursing home. Support is available to ensure your loved one can enjoy their independent lifestyle in their familiar surroundings. There are many services up and down the country, such as home care Rochdale - that dedicate themselves to assisting those that wish to live at home, of which you can access.
Home care can be provided for as much or as little as required, whether it's just a hand around the house once a week, or a more regular visit to lend a more intense helping hand. It is important you have the right scheduled tailored for your loved ones needs. Here are five advantages to using a home care domiciliary service for your loved one:
1. Stay in familiar surroundings
Potentially the most important advantage of using a home care service is that your loved one is able to stay in their own home. They are able to continue living the life that they are familiar and comfortable with, but are able to do so at a much easier and convenient level, thanks to home care services. Staying among the memories made in the home, the friendly neighbours and having your own place is a huge positive mentally, which is especially important when dealing with conditions such as dementia.
2. Stay independent
Home care services will not interrupt independence in any negative way, it will simply enhance it. Keeping daily routines, having things done more efficiently and helping your loved one get up, eat and achieve other daily tasks with ease will ensure independence. A home care supporter is able to help your loved one undertake activities, trips out and daily tasks to retain this level on independence.
3. Personalised care
As domiciliary home care services are undertaken on an individual basis, the type of care given and received is completely customised to their requirements. Home care support can be personalised, flexible and undertaken in a friendly manner.
4. Enable shared responsibility
For many caring for their loved ones, it can be difficult to keep up with their needs. Whether you are a partner, family member or friend, home care can work in cooperation with others to ensure that loved ones are given the utmost care and help that they need. Whether it's an assisting role for other carers, or taking on a large part of the care, a good home care company can make it work.
5. Flexible support
It can be difficult undertaking all aspects of care to a high standard. Some home care services can offer a complete service that helps with personal care, medication etc, while others are high suited to housekeeping, day to day tasks, outings and companionship.
Image by 'Moyan Brenn' / Licence