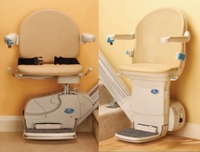 The following is a guest blog by Robert Winchurch of MobilityProducts4U!
Recently I read an article that suggested that the first ever stairlift might well have been used by Henry the 8th.
The story suggested that he would have needed this to go up and down the 20ft staircase in Whitehall Palace in London and the historian David Starkey is quoted as saying that he could well have had something similar fitted to allow him access to his warship the Mary Rose.

His stairlifts would have course in those days consisted of a block and tackle system with many servants pulling on ropes to move the contraption, shown in royal records as "chair that goeth up and down" complete with his royal highness in it!

Very fortunately stairlifts have progressed an awful long way since the times of Henry VIII and they no longer need several people to pull on ropes and indeed the latest versions are quiet and very efficient and can be fitted to any type of staircase.

Here at Stairlifts North Wales we are able to offer a full service which includes an initial survey which will be arranged at a time to suit you. This will allow us to ascertain which is the best type of stairlift for your needs and then give you a proper quotation that will show you the true costing without any hidden extras.

Once you are happy the order will be placed with the factory and the stairlift will be one made individually for your needs and specification, because everything will be made to measure the fitting of it, which will be carried out by our own factory trained technicians, will be quick and efficient with very little if any inconvenience to yourselves.

Whether you have a straight staircase and curved stair case or even a very narrow staircase we will be able to supply the right stairlift for you. To make it even more individual you will be able to select a fabric to have the seat and footrests that will match or tone with your décor and if or when you decide to redecorate you can request that we reupholster the stairlift to match. This obviously wil be at a small charge but means you can always have a stairlift that blends in properly.

Your stairlift comes complete with a 12 month guarantee on all parts and labour and after that period we can arrange extended cover to give you peace of mind against any problem that might occur. This will be tailored to your needs.
Recently a lady who has had a stairlift for over 5 years found that for some reason when she came downstairs it stopped just before the bottom step and would not move again, there was no apparent reason that she could see that had caused it. She was concerned because it was a Sunday but she phoned in to the number she had been given with her extended cover details and to her surprise they got a technician out to her the same day. He managed to get her stairlift working to allow her to go up and down stairs but he had to return the next day to replace a part that he did not carry on his van.

That he duly did and the lady concerned can now go up and down to her hearts content and at least unlike Henry VIII she only needed one person to put it right and after that she was able to move on her own!

We here at northwalesmobilityproducts.co.uk believe that service is paramount with all of our products and our aim is to give you 100% support right from your initial enquiry right through the fitting and on through many years of satisfying service, after all if a stairlift was good enough for Henry VIII then it is good enough for you.